+5
BC
Drunkenmunk
Kr
IsaiRasigan
app_engine
9 posters
அக்கா இறந்த செய்தியை ட்விட்டரில் கண்டு அதிர்ச்சியுற்றேன்.
கொடுமையான துன்பமும் வேதனையும் உற்றிருக்கிறேன்!

app_engine




Posts

: 10082


Reputation

: 27


Join date

: 2012-10-23


Location

: MI



மிகவும் துயரமான செய்தி. என் மனமார்ந்த அஞ்சலிகள்!

IsaiRasigan




Posts

: 93


Reputation

: 1


Join date

: 2016-05-12



Deeply saddened!

Om Shanti! Om Sadhgati!

Kr




Posts

: 76


Reputation

: 0


Join date

: 2013-08-26



This is totally devastating.

Needless to day, Usha madam was among the trust of true Raaja fans. I have come to have the good fortune of knowing her only through this forum. She has remembered and wished me on my birthdays here. She did shower special affection on other true Raaja fans, like we were her family.

Beyond all that, I felt a connect with her through a deja vu engineered by Raaja's magic. I guess I have never told her this, and I am much the poorer.

She recalled here once that En Poove Pon Poove from Pappuyude Swannam Apoos triggered a wave of memories in her when she recovered from a major surgery and seeing her kid brought in deja vu which can only be experienced and Raaja did that through his music.

I had my mother undergoing two major surgeries in 2006 and independently, at a random Udhiri Pookal watch in 2012, Azhagiya Kanne hit me and brought the deja vu flooding back and wrecked me.

That is how Raaja unites his fans who get the depth of the emotion in his music.

We will remain united by the magician's music.

Usha madam will live long; carrying Raaja's music with her in the other world, where she will find more peace.

Go well ma'am.
panniapurathar and IsaiRasigan like this post
tfmpage (mayyam) & ilayaraja.forumms.net இழைகளில் மட்டுமே பழக்கம் - நேரில் பார்த்ததோ, தொலைபேசியில் பேசியதோ அல்லது வேறெந்த சோசியல் மீடியா வழியிலான தொடர்பும் இல்லை. 

ஏன், எப்படி இவ்வளவு சின்ன வயதில் இறந்தார் என்று அறியக்கூட வழியில்லை.

என்றாலும் கூடப்பிறந்த அக்காவை இழந்த வெறுமையுணர்வில் பெரும் மனச்சோர்வு அடைந்திருப்பது புரியாத புதிர். அதுவும் ஒரே தெருவில் வாழ்ந்து அன்றாடம் பேசிக்கொண்டிருந்த தமக்கை இறந்தால் எப்படி இருக்குமோ அப்படி ஒரு வெறுமையுணர்வு!

ராசா இசையை அவர் அந்த அளவுக்கு விரும்பினார் என்பதனால் தான் இந்தப் பாசம் இருக்கிறது என்று புரிகிறது. 

இத்தனை ஆண்டுகளாக ராசா மற்றும் அவரது இசை மீது மாறாத பற்றுறுதி கொண்டிருந்த இப்படிப்பட்ட ஒருவரை இதுவரை நான் கண்டதில்லை. 
(ஒப்பிடக்கூடாது என்றாலும் பேச்சுக்குச் சொன்னால் எனக்கெல்லாம் விசிறி என்று சொல்லத்தக்க தகுதியே இல்லை).

app_engine




Posts

: 10082


Reputation

: 27


Join date

: 2012-10-23


Location

: MI



panniapurathar and IsaiRasigan like this post
Disturbing news.  May her good soul rest in peace.  Too many of such terrible news since the pandemic began.  Cannot believe that it is the same person I have been interacting with, all through.  We connected through private message when I first introduced myself to her for which she responded promptly and we have chatted quite a bit after that.  I even wished her a quick recovery when she said she was down with ill-health a couple weeks before.  She commented she was getting better and then suddenly this bad news.

Her passion for IR music is infectious.  All her posts on IR music need to be cherished.  She posted many rare songs of IR that I might have heard only once or never heard before.  I was even happy that there was at least one female here in this forum, while another female by name 'mythila' posted occasionally.  Usha madam was like a web-crawler giving the daily dose of IR-related news. 

May God give her family all the strength to recoup from this tragedy.

BC




Posts

: 553


Reputation

: 1


Join date

: 2018-06-05



panniapurathar, IsaiRasigan and Jose S like this post
I was also shocked to learn about her demise.  She was a simple and happy soul, adoring Ilaiyaraaja and was a regular Forumer for many years now.  Her brother CS Ramasami is also a staunch devotee of Maestro who had shared some of his correspondence with Maestro during His formative years in TFM Page and elsewhere.
I had met Usha akka in Chennai during One Man Show concert of Raja, for which she came all the way from Hosur.  That was the only personal meeting I had.  We will miss her posting in the group.  We had chatted few times during the Yahoo Messenger days.  Om Shanti.

crvenky




Posts

: 15


Reputation

: 0


Join date

: 2013-06-06



panniapurathar likes this post
I was shattered when I heard about Usha in FB. What a dedicated fan of Raja's music!
I looked at 'Anything and Everything thread' here in the forum and noted that she had created 6 topics and was the last contributor on 47 topics! (data from minutes ago).
She was a huge source of encouragement for Raja music analysts like me. She had no inhibitions in asking questions. 
For a long time, I did not know that she was CSR's sister. CSR was an inspiration for me to learn the intricacies in Raja's music and I wanted him to write the foreword for my Tamil eBook on Raja. As CSR was not active on Raja forums, I reached out to Usha and she made that happen. I have never met her and known her only through emails and discussions in different Raaja forums.
As a dedication to Usha and her unconditional love for Raja's music and his fans, I have dedicated the eBook in her memory: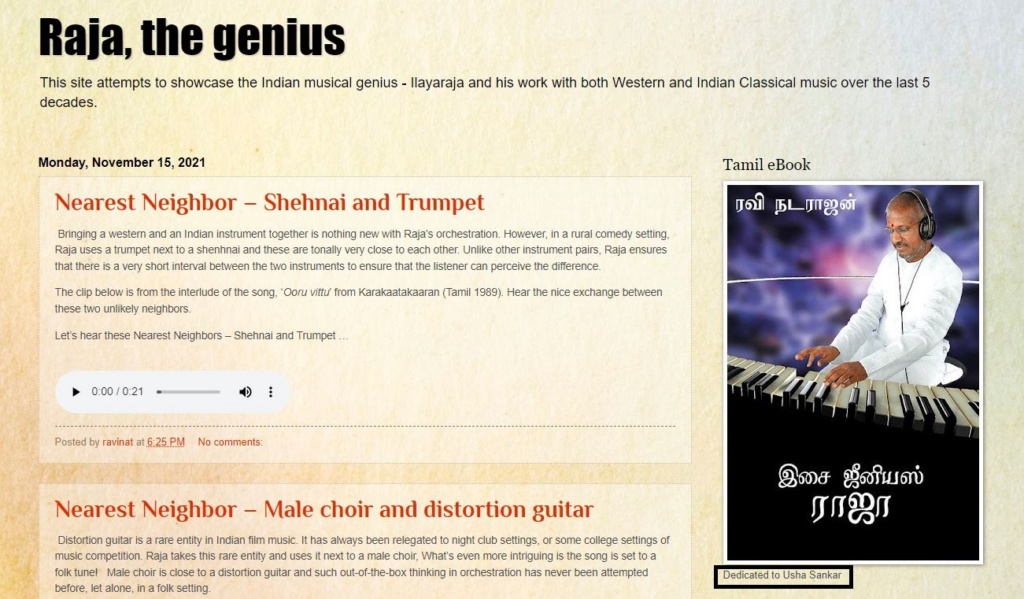 She will be missed big time. We became poorer as a community with her passing away
app_engine, panniapurathar and IsaiRasigan like this post
Very sad to hear the news.. A big loss for this group.. 

I knew her during the times when we were part of Yahoo Ilaiyaraaja Fans Group.. Whenever the group used to conduct physical meet at Chennai, Coimbatore, Bangalore, etc. she used to travel and actively participate discussing / recollecting fond memories of Raaja's music.  After Yahoo group was closed, I was closely following her messages in this group under various topics.  

I had last met her during the IR concert at Bangalore Ganesha Utsav in 2012.  A down-to-earth lady... Her whole life was centered around IR's music..

May her soul rest in peace..

raagakann




Posts

: 60


Reputation

: 1


Join date

: 2016-04-22



I saw a post on @ravinat's Twitter page yesterday, but didn't the make the connection he was referring to the Usha who was active on this forum. Just came across this thread. Very sad to hear this. She had a lot of valuable insights in various threads here.

Jose S




Posts

: 84


Reputation

: 0


Join date

: 2019-12-31



Similar topics
---
Permissions in this forum:
You
cannot
reply to topics in this forum